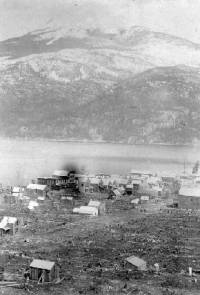 Village of Kaslo
The Village of Kaslo boasts a rich and colourful history. Like many communities in the Kootenay Lake area, Kaslo developed due to the mining boom of the early 1890s. In 1888 and 1889 George Buchanan and George Kane staked timber claims. As mining activity took off in the surrounding area, part of the timber claim was surveyed as a town site - Kane´s Landing. George Kane formed the Kaslo Kootenay Land Company to sell off lots to incoming miners drawn by the area´s rich silver deposits. Kaslo was incorporated as a city on August 14, 1893. It quickly became a thriving silver ore mining and shipping boomtown, boasting a population of 3,000. Kaslo was the first city to be incorporated in the Kootenay´s, the 7th in BC.

In 1894 devastating floods and fires ravaged the town, but Kaslo rebuilt and continued to push forward. The following year, a new railway was built over the pass to Sandon, and within two years Kaslo boasted telephone and electrical service, a brewery, a cigar factory, and a full complement of hotels, bars, and brothels.

As the Kootenay mining industry waned in the early years of the 20th century, the Canadian Pacific Railway began to promote the area as a fruit-growing oasis. English settlers responded to the CPR´s campaign, planting apple and cherry trees. Kootenay fruit was soon recognized as some of the finest in the world, taking prizes at prestigious international competitions. Crate after crate of rosy apples and plum sized cherries were loaded onto the steamships that connected the Lake´s shoreline communities, bound for export around the world, and supplying their growers with healthy, dependable profits.